Steam Cleaned

Free Estimates

No Harsh Chemicals

Deodorizes for Pets

Removes Stains
Keep Appointments
Manufacturer Recommended
Pre-treatment Of Problem Areas


From wool to nylon carpet and more we have mastered the art of deep cleaning carpets. Your carpets will last longer and provide a healthier environment for your family if they are deep cleaned at least twice a year. When dirt is embedded or rooted between the fibers and this soil is not removed, the carpet fibers will break down from the friction caused when walked on. If carpets are not cleaned a visible traffic pattern will form on your carpet.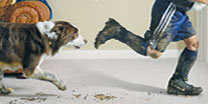 Proper care is very important. Vacuum your carpet as often as needed. For example, if only two people live in the house you may only need to vacuum once a week. If your household has children and pets you may need to vacuum daily.
Clean Impressions' cleaning method will give you the deepest cleaning possible that is recommended by carpet manufacturers. Before the cleaning starts, all traffic areas and stains will be pre-treated for a cleaner result. Our truck-mounted cleaning unit has the power to pull out the deepest soil in any carpet. Clean hot water with cleaning solution and deodorizers is applied to the carpet while dirty water from the carpet is brought back into the waste tank in the truck. All of the heavy equipment remains outside your home.
Clean Impressions specializes in cleaning carpets in West Palm Beach including Jupiter, Wellington and all other surrounding areas.