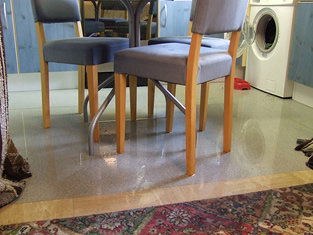 Washing Machine Hose Leak

Broken Pipes

Storm Damage

Drainage System Backup

Dishwasher Leak
Commode Overflow
Leaky Roof


Water damage presents a problem that is difficult to repair. Damage from the water and bacteria growth can begin within hours. Once mold begins to grow, the cleanup job is compounded and your expense increased substantially.
Water damage can result from a number of different events — broken pipes, sewer function failure, leaky roofs, storm damage, washing machine leaks, etc. The severity of water damage can differ based upon the source that the water came from, the structure of the building, the duration of the damage, and the possessions affected.
No matter how severe the damage, it is in your best interest to employ a professional restoration contractor to carry out the restoration process. Insufficient techniques and incomplete drying by unqualified contractors can potentially lead to ongoing damage after the treatment and result in more cost to you.
At Clean Impressions we concentrate on safely drying, deodorizing and disinfecting the areas flooded or damaged by water by combining our professional know-how with state-of-the-art equipment and products.