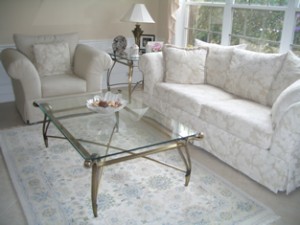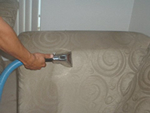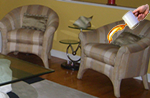 At Clean Impressions we have cleaned thousand of pieces of upholstery. Today most upholstery is safely cleaned with water but still care must be taken. So drying time will not be excessive, caution must be taken not to saturate upholstery even if it is wet cleanable. Upholstery can be damaged in the wrong hands, so knowing what to look for by someone who is trained and experiencedin this art of cleaning is a must.  
Before making a decision on the cleaning process most suited to your particular furniture, we will inspect the upholstered material. We recommend using our professionally applied cleaning methods at least once every two years. Given the proper care, your upholstered furniture will last for many years.
We can clean almost any fabric, including delicate and hard-to-clean fabrics. Clean Impressions' process follows the guide-lines set by the IICRC (Institute of Inspection, Cleaning and Restoration Certification):
Inspect the furniture, assessing any stains or spots, so we can let you know what to expect from the cleaning.
Pre-condition the fabric allowing the cleaning agents to emulsify the dirt and stains.
Textile rinse and extraction to thoroughly remove soil and moisture.
High-powered air movers to accelerate drying time. On cut pile fabrics we use a brush to groom the pile to lift it and leave fabric looking like new.